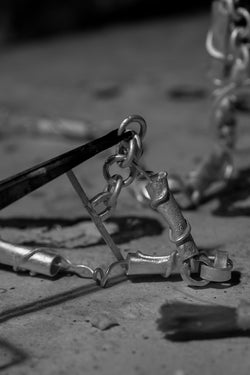 INTRODUCTION TO SOLDERING & SILVERSMITHING WORKSHOP [EARRINGS or RING]
Learn the basics of Soldering and Silversmithing at my Brunswick East Studio.
This 4 - hour workshop will cover the following information:

- Studio Safety and PPE
- Sketching your design
- Preparing and Annealing Silver wire
- Forming and cutting links for soldering
- Soldering and Pickling
- Shaping links (Basic forms)
- Cleaning & Polishing 
The following tools and materials will be provided for you:

- Lengths of round sterling silver wire (Earrings)
- A length of Sterling Silver wire in either square, rectangular or round (For a Ring)
- 1 pair of 16mm diameter sterling silver hoops
- PPE (Protective Glasses, Respirator Mask)
- Pliers and files
- Cleaning and polishing equipment
- Velvet pouch to keep your pieces in.
At the end of this workshop, you will take home a pair of earrings or ring of your design featuring the techniques that you have learnt.
You will also qualify to participate in my INTERMEDIATE Soldering Workshops to increase your knowledge of silversmithing and chain-making.
Please note the dates selected cannot be changed once booked so please make sure you are aware of your schedule. If you cannot attend your workshop due to illness, please get in touch via email at info@bobbycorica.com.